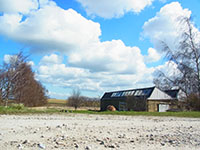 t e k s a s is an artist-run projectsspace, founded in 2011.
We, artists Karin Lind and Peter Holm, have rebuilt a factory building, housing our home, our personal studios, the showroom, and an apartment for artists in residence, t e k s a s a i r. Furthermore we have a 8000m2 site for outdoor projects
t e k s a s is situated in a rural setting outside the town of Græsted, 45 minutes from Copenhagen, the capital of Denmark. We can also be reached by train.
From this center, we work with our artistic practices on an international basis.
Besides our practices we curate, produce, show, and communicate work by colleagues as a surplus to both our local communiity and to the contemporary art world. We host and develop dialogues, drawing new pathways across the conventional routes.
Our belief is, that the artist as organizer and curator is of evident importance making an essential addition to the artscene. t e k s a s is an addition of space without institutional tradition and bureaucracy.
We believe in influence by action. The initiative is ours and freedom to operate is a keyword
t e k s a s
Maglemosevej 10
dk- 3230 Græsted
Karin Lind – Visual Artist
Home – Peter Holm
– t e k s a s is open only on request or on specially announced occasions through Facebook or this site.
Please call us or send a message to make an appointment before coming to see a show